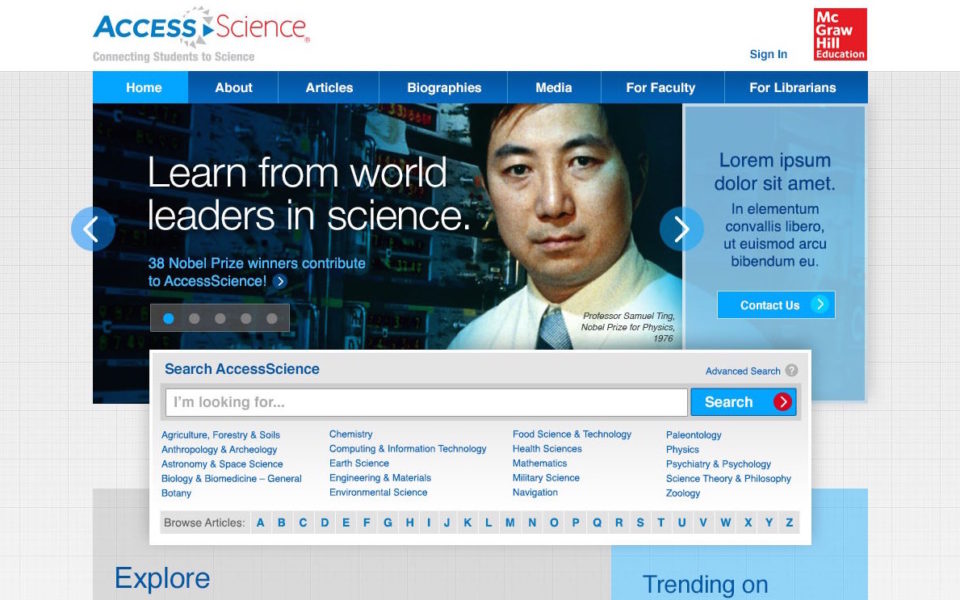 McGraw-Hill Education
AccessScience is a digital product by McGraw-Hill Education that provides nearly ten thousand articles on science written by award-winning and top scientists across the world. With 38 Nobel prize winner contributors, this top notch content provides a great resource for AP high school and college students in their coursework and research.
McGraw-Hill Education contracted the Apollo Matrix team to re-design the product for better user engagement and increase adoption. We started the project with a high level re-design of the home page and secondary pages for a high level improvement on look-and-feel while utilizing the same technical framework.
With the switch to a new platform, Apollo initiated the second phase of the re-design effort with usability testing. We performed the user testing at the Tobii eye-tracking lab. Using Tobii eye-tracking technology, local college students tested the existing product. An insights analysis was created based on the results of the eye-tracking usability study paired with the qualitative feedback from the accompanying interview. Through testing we could formulate design recommendations and product feature specifications that were vetted based on research, not just best practices.
Apollo's re-design of AccessScience is user friendly and engaging. The design approach is user-centric, focusing on the primary target audience of college students, appealing to their expectations and user behaviors.
View the Case Study