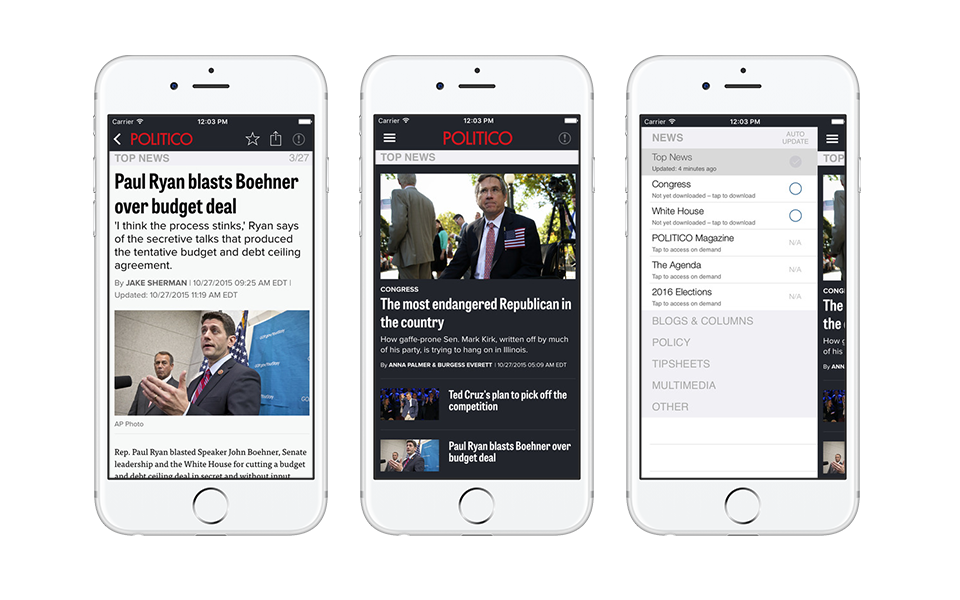 Two separate projects lead to a software product development partnership between Apollo Matrix and POLITICO.
The first, most visible task was providing solutions for residual issues within their two existing iOS legacy apps for iPhone and for iPad. Both apps experienced crashes with the previous ad integration systems. After a detailed code base review and presentation of our findings, Apollo was tasked with patching these problems while simultaneously working on the second project: a brand new, universal POLITICO iOS app.
The new app replaces the two existing applications with a seamless iOS experience on both phone and tablet. The user experience will be largely the same, but the app is optimized for both iOS 9 and their new CMS. Apollo aided with the CMS migration by moving Politico's push notification platform from Revere to Amazon SNS. The team also integrated Tealium as an intermediary system between the app and the Adobe Marketing Cloud software currently employed by POLITICO. This new integration will unify the various analytics packages already in use.
The Apollo team worked with visually impaired users to make sure that the accessibility features are Section 508 compliant.
Learn More!