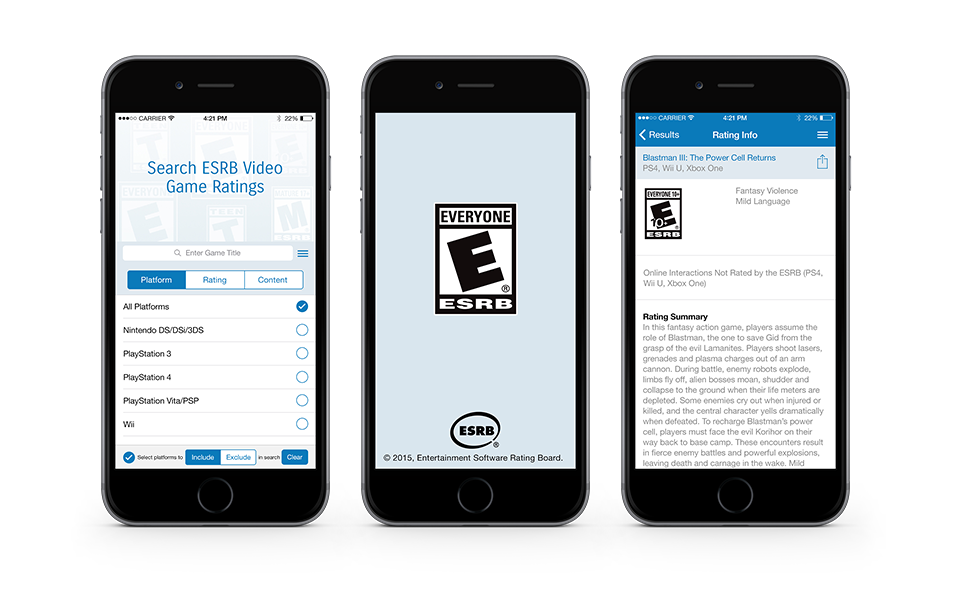 Is that game OK to play? ESRB's mobile app allows parents to easily find a game's rating in order to know if it is age and content appropriate for their child. Users can search by game title, platform, rating, or content. This mobile app, from the non-profit Entertainment Software Rating Board (ESRB), makes it easier to determine the right games for kids, whether at home or in the store.
ESRB offers over 30,000+ ratings for video games, mobile apps, and other downloadable games for kids, teens and adults. Depending on the specific title, results may include additional information such as rating summaries, interactive elements, or other notices. This app features an unlimited number of free searches with the ability to instantly share results with friends and family via Facebook, Twitter, and e-mail.
Apollo designed and developed the ESRB mobile app for iOS, Android and Windows Phone. The user-centric design approach is easy-to-use, intuitive, informative and engaging while upholding the well-known brand and, yes, it's "Rated 'E' for Everyone!"
ESRB approached Apollo Matrix in 2015 to refresh the existing application, both in terms of their new branding and to make sure the app is optimized for the latest mobile operating systems. The user experience is now cohesive and congruent across all mobile and web platforms.
View the original Case Study