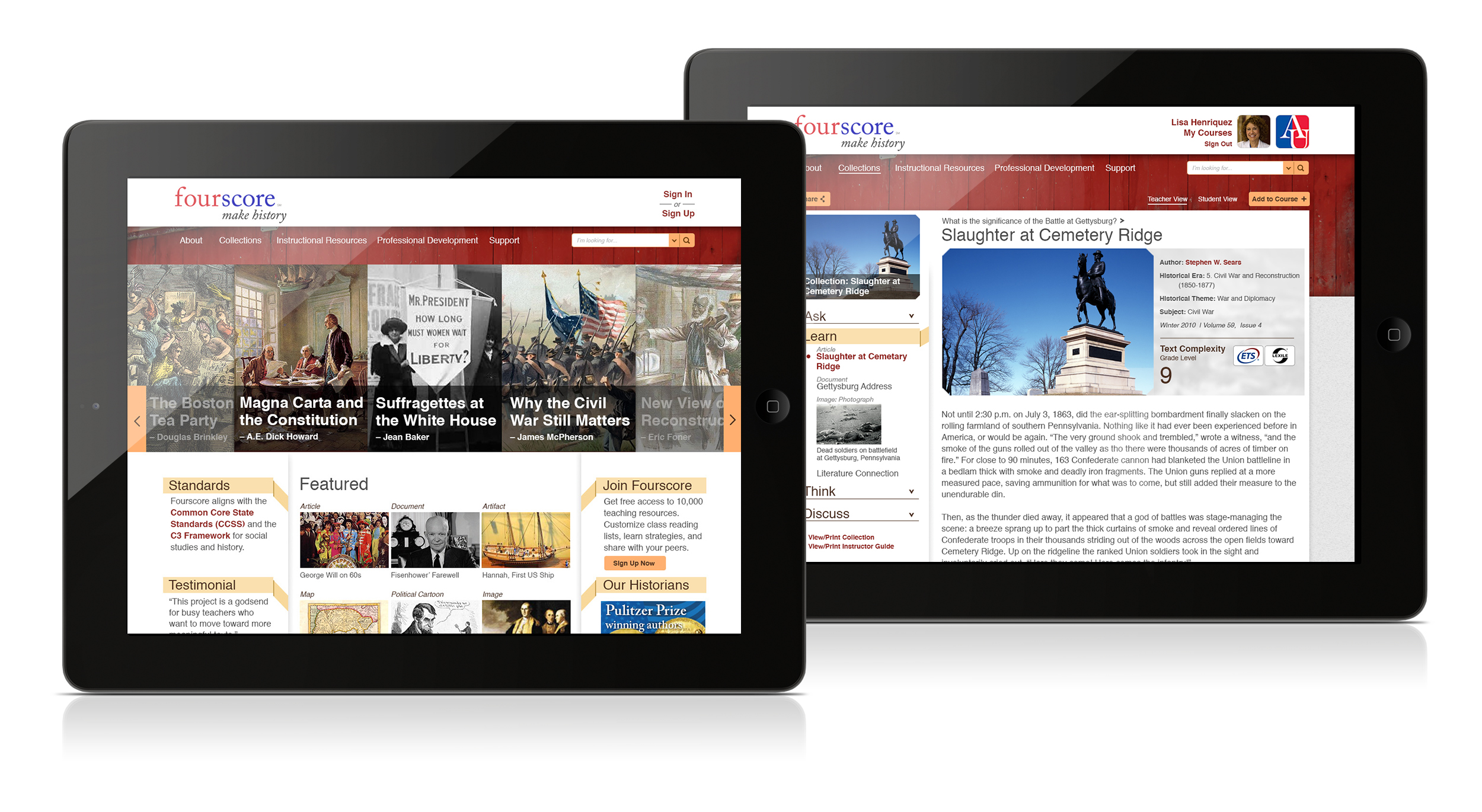 American Heritage Society
American Heritage Society partnered with Apollo Matrix to design and develop a new educational product, Fourscore. Fourscore is a free tool meant to be a digital resource for teachers and students. Linking historical essays and artifacts to today's requirements for Common Core State Standards (CCSS) and the new C3 Framework, Fourscore provides a rich and effective way for students to engage in learning.

View the Case Study
By focusing on a user-centric approach, we were able to effectively align user goals with American Heritage's business goals to create a robust educational resource. Starting with interviewing teachers from across the country, Apollo Matrix's team was able to better understand teachers' needs and the longing to not have "pre-made" lesson plans but a way to integrate the new standards into their own teaching style.
Apollo's developers used the Drupal 7 platform to best accommodate the complex data organization and structure and showcase the desired online experience. We made the site optimized for four different user types: student, teacher, content manager and content curator. On top of this system, we integrated Solr search. Finally, a complete custom theme was built from scratch for the website in order to best link the content and references, into flexible and unique output.
Fourscore's highly anticipated pilot launched at the start of the 2013 – 2014 school year. Teachers and school districts alike met its breakthrough approach with great excitement. With Fourscore, teachers can create courses, classes, lessons, and assignments using content from thousands of historical essays and primary sources from American Heritage Society and its partners the Library of Congress, Smithsonian, and others. In discovering our passion for digitally transforming education resources for teachers and students, Apollo knows the website will transform education and support students to 'Make History'.