Sloans & Kenyon Auction Catalog
.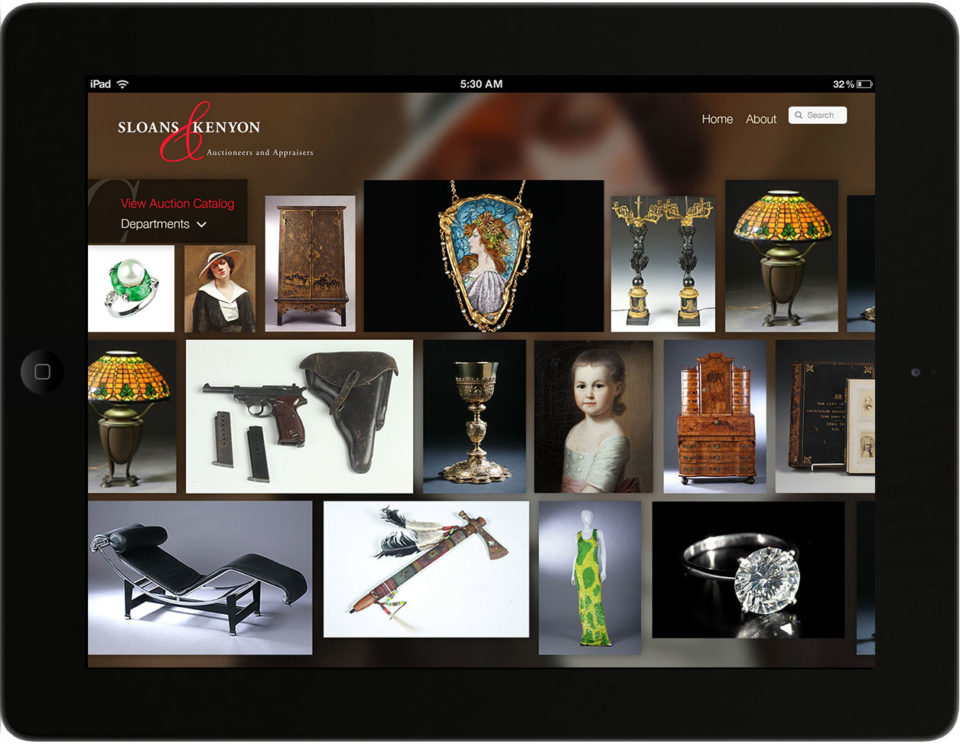 Sloans & Kenyon Auctioneers and Appraisers
Sloans & Kenyon came to Apollo Matrix with a digital inclination and business objective of reaching a new audience with an iPad app that could grow a younger crowd, allow for social sharing, and eventually increase sales with in-app bidding on auction items.
Apollo's beautifully designed home screen features a sliding collage of their key auction items immediately giving clients an overview of items in the auction. Users will have the ability to casually scroll through these items or purposefully explore. From searching by lot #, department, or key words, the user will have a great experience. With the ability to see a more detailed view, users will be able to know updated information about the item's description, condition, provenance, and sale date. This app will also provide social sharing capabilities to Facebook, Twitter, and Pinterest.
View the Case Study
When we worked for Sloans & Kenyon in 2013, social sharing was just beginning to drive a behavioral shift with traffic coming from tweets, pins, wall posts, and more. At that time, over 73% of small business owners used social media to influence their brand since they could reach existing customers and also extend influences to new customers. Social platforms are more than popular with reach to all ages and demographics. In 2013, Facebook had more than 1 billion users worldwide while Twitter users sent more than 400 million tweets every day.
Mobile played a huge role in the rise by allowing users to be active on social media anywhere at any time. Users no longer share updates just from their own lives, but they search for businesses and products, and connect with brands through all social platforms.
Sloans & Kenyon's main platform focus was Pinterest, which fuels creativity and collaboration in a catered photo-sharing collage. Businesses are most successful with Pinterest when their items are "pinnable" meaning that their app or website is full of images or visuals. For Sloans & Kenyon, Pinterest proves to be an ideal platform to actively grow the brand. To be most successful on this platform, Apollo recommended expanding boards outside of just strictly images of their auction items. Having a variety of boards with other decorating or design images would introduce new followers to the brand through re-pinned objects as well as inspire them with the available auction items.
With all social media platforms, Apollo suggested a pre-determined formula for automated wording for every Sloans & Kenyon item pin. This would include text describing the item with the Sloans & Kenyon brand and a call to action to "Get the App!".